Business Support Covid-19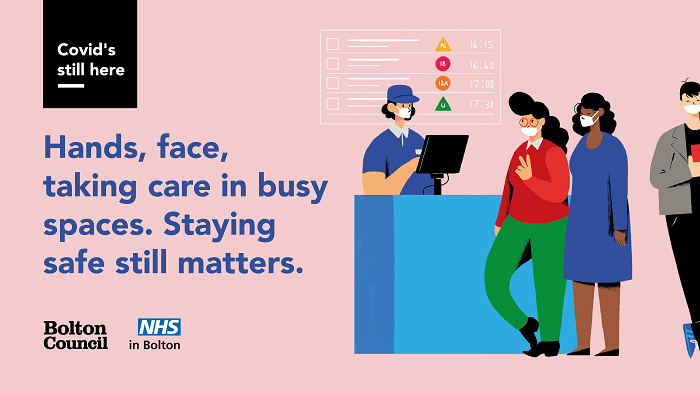 The latest information and sources of advice for Bolton businesses during Covid-19 has been outlined below.
---
1. Covid's still here
The government has announced that the measures put in place under Plan B in England will be lifted. You should continue to follow safer behaviours to protect yourself and others:
Get vaccinated and get your booster dose
Wear a face covering in most indoor public places and on public transport
Let fresh air in if you meet indoors. Meeting outdoors is safer
Get tested and self-isolate if required
You can read more on the government's website.
Vaccinations
The coronavirus (COVID-19) vaccines are safe and effective. They give you the best protection against COVID-19.
For all information about vaccinations and who is eligible visit the NHS website.
For details of walk-in vaccination clinic in Bolton area visit https://www.boltonccg.nhs.uk/patient-zone/coronavirus
Read more about vaccinations for children.
Testing
Testing people to see if they have COVID-19 is really important. It allows us to identify people who have the virus and stop them from spreading it to others.
There are two types of test - for those with symptoms (PCR test) and those without symptoms (lateral flow test).
If you have symptoms or test positive
If you have symptoms, self-isolate straight away until you get your results. Do not leave home, except to post a test kit or for a PCR test appointment.
Get a free PCR test to check if you have coronavirus (COVID-19) - GOV.UK (www.gov.uk)
Check if the people you live with need to self-isolate on the NHS website.
Self-isolation
You must self-isolate if you are told to do so by NHS Test and Trace. Find out:
Support and guidance
Bolton Council's COVID-19 Response Hub provide guidance, practical help and the delivery of essential items to those who require support to isolate.
Anyone who does not have a support network of family and friends, can call the helpline on 01204 337221 (Mon-Fri 8.30am – 5.30pm and Sat 9am-1.30pm).
---
2. Financial Support for Businesses
The Chancellor has announced a range of support for businesses affected by Covid 19. For more information please visit the Councils Business Grants Page
The Government has provided an additional business rates support package worth £1.5 billion, to support businesses in England that have been affected by COVID-19 but are not eligible for existing support linked to business rates called the Covid-19 Additional Relief Fund (CARF). For more information and to apply click here. The application period for this scheme is 8 March 2022 to 31 March 2022.
---
3. Workplace Safety Advice
The Government have updated the Workplace Safety advice for all businesses information on workplace safety advice page this includes information on the NHS COVID-19 Test and Trace App, guidance around face coverings for staff and customers and working from home and self-isolation guidance.