Networking, connecting and training leads to £1 million worth of business sales for Bolton based Leisure Guard Security.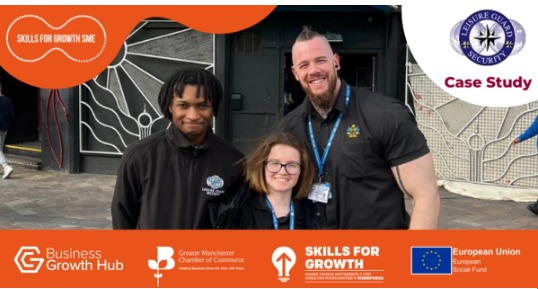 Proving the value of networking events expands business networks and establish local connections and to ultimately lead to the generation of an incredible £1 million worth of sale.
Bolton based Security Services Company Leisure Guard Security offers security guards for domestic, industrial, and commercial contracts. At a time when security is becoming an increasing priority for some businesses, Leisure Guard wanted to ensure that they were well positioned within their sector by utilising all their available business channels, to drive their growth strategy and raise the awareness of the Leisure Guard brand.
After attending the Best of Bolton business event in 2021 which led to Leisure Guard Security meeting Skills for Growth – SME Support Skills Coach Jo Whitehead and starting their journey on the Skills for Growth – SME Support programme. Leisure Guard Security were keen to take advantage of the fully funded and partially funded course options available on the GM Skills Map. With over 2000 courses available, the GM Skills Map is Greater Manchester's online portal for showcasing the learning options available to businesses and matching the course providers with their employees.
Working together with Leisure Guard's appointed client contact Toby Hodgkiss, Jo performed an initial assessment of the Leisure Guard business which revealed their desire to strengthen their marketing communications and activity across their business channels, to take advantage of business opportunities that were being missed across social media. Leisure Guard Security already enjoyed high levels of employee retention, but the additional Social Media training enhanced the company's commitment to one of their strongest assets, their workforce.
The impact of the training activities on the business has resulted in further opportunities to invest and enhance the workforce, which will have a positive effect on retention and recruitment.
Following their completion on the programme, Jo's extended knowledge of the support available from the wider Business Growth Hub has enabled her to add value to the interaction by introducing and connecting Leisure Guard Security with other areas of the Business Growth Hub, Bridge GM and Account Management options to support the achievement of their continued business objectives.
Read the full article here: Case Study: Leisure Guard Security (skillsforgrowthsme.co.uk)