Free course : Content Creation and Social Media Management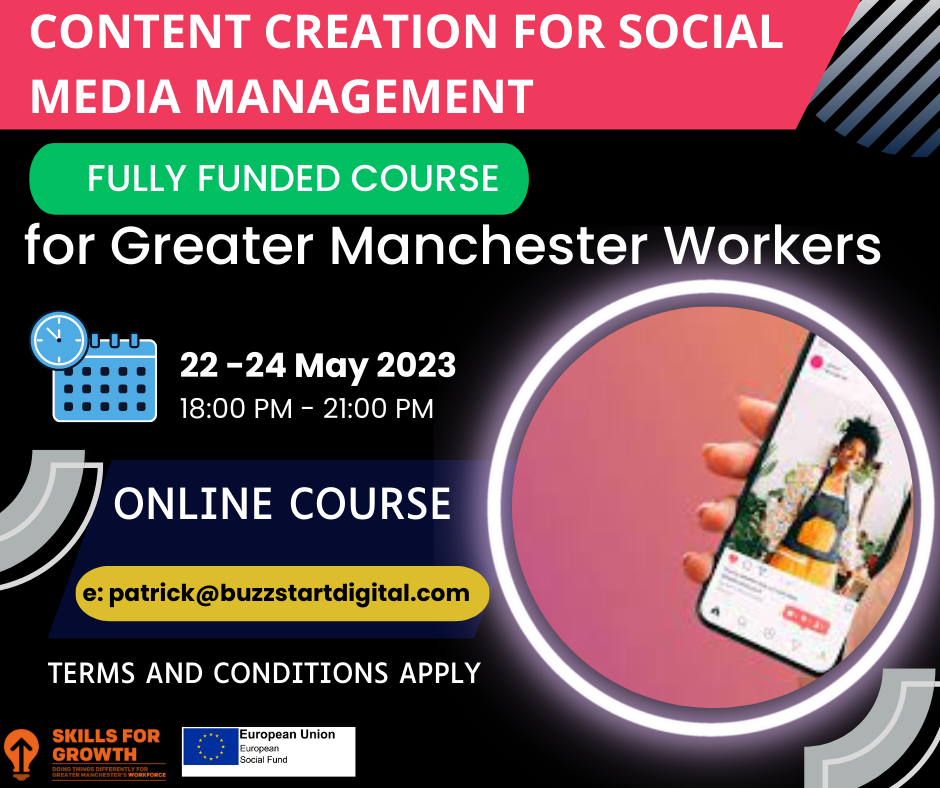 Are you a keen digital marketer and a budding content creator? Would you benefit from a fully funded short course - Content Creation and Social Media Management?
There is no cost, as it's fully funded by the European Union Social Fund, Skills for Growth. Delivered by award-winning digital agency owners and normally costs £999.
Gain the skills you need to create social media graphics and videos and excel in social media marketing and discover how to create engaging content for different social media platforms using a range of free tools and techniques.
Terms and Conditions must be met (see the Eventbrite brochure page linked below).
The course starts on Monday 22nd May and ends on Wednesday 24th May.
Monday 22

nd

May (6 - 9pm) - Digital marketing fundamentals, digital tools and intro to content marketing
Tuesday 23

rd

May (6 - 9pm) - Micro video content and social media strategy
Wednesday 24

th

May (6 – 9pm) - Learn about tools to make editing, managing and reporting easier
This course is extremely popular, and places go fast. Please apply quick to secure your place.
BENEFITS
Fully funded and no cost to you
Level 3 mapped Digital Marketing certification
Learn from industry, award-winning experts
Learn online from the comfort of home or work
Learn about industry trends and best practices
Apply your knowledge instantly to your place of work / business
Before you begin your application, it's mandatory to first read the course information and eligibility criteria on the Eventbrite course brochure page.
Terms and conditions apply.
WHAT ARE PEOPLE SAYING?
"This was an amazing course and experience. I learned loads in a really short time. I was highly impressed by the trainer and quality of training, and I've acquired lots of new skills and ideas. I am now more confident about creating engaging content for different social media platforms."
DO NOT register on Eventbrite. Apply via the link provided within the Eventbrite page.
Read More and Apply - https://ContentCreationforSocialMedia.eventbrite.co.uk