Future proof your business with FREE support from the Renewable Energy Independence Programme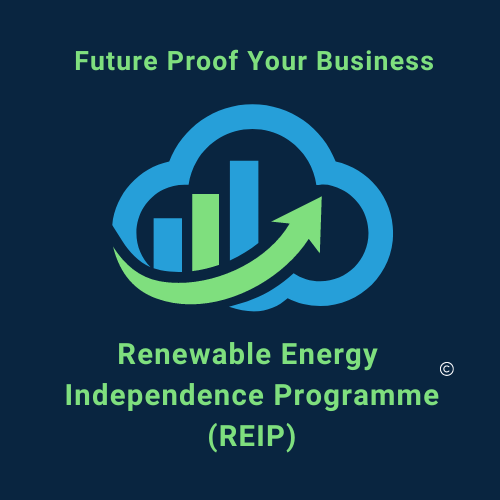 The Renewable Energy Independence Programme (REIP) is committed to providing FREE  sustainability support to businesses within Bolton.
The aim is to help grow the green economy, lower energy costs, reduce your carbon footprint, make positive environmental impact and accelerate Net Zero targets.
They offer the following three "no cost or fully funded" business sustainability opportunities:
Switch to 100% Renewable Green Energy
They work directly with large scale renewable energy generators (Wind / Solar / Hydro / Anaerobic Digestion) to provide businesses with 100% Green Energy at transparent low wholesale prices – with no hidden charges or fees.
100% Green Renewable Energy
Transparent Wholesale Pricing - No Hidden Charges
Improve Business Sustainability & Profitability
Make a Positive Environmental Impact - Demonstrate Your Green Credentials
Energy

Bill

Overpayment Reclaim Service
Many businesses have historically been overcharged for their gas and electricity - without knowing it. However, due to changes in OFGEM rules involving mis-sold broker procured contracts and undisclosed hidden charges you can now potentially recover up to 60% of all energy bills (not just broker commission) - going back 15 years.
Their FREE business energy bill analysis service can help identify any overpayments and reclaim substantial sums of money for you on a "no win, no fee basis - through an experienced panel of independent solicitors.
Fully Funded Solar PV Installations & Power Purchase Agreement (PPA)
Eligible businesses and organisations can now benefit from having a fully funded and maintained solar system - with no capital expenditure. Our funding partners will finance the system and provide your business with a low, fixed rate tariff (typically 12p-15p per kwh) thereby enabling you to future proof your electricity costs for up to 25 years.
Next Steps
Contact the friendly Renewable Energy Independence Programme (REIP) team now to find out more or arrange a FREE no obligation Voltage Optimisation assessment site visit.
Call Graham on 0345 340 4326 or 07870 222771 / Email: graham@imperativesolutions.co.uk