Santander X UK Awards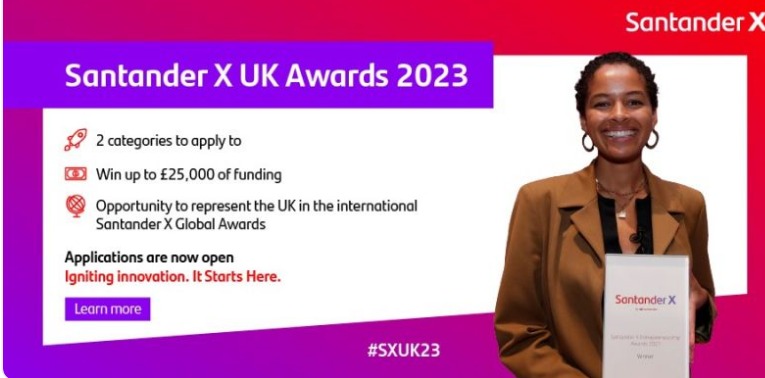 Win up to £25,000 of funding for your emerging business!
Applications for the Santander X UK Awards 2023 are still open!
Now entering its 13th year, Santander's annual Entrepreneurship Awards is one of the UK's largest student and graduate business pitching competitions. To date they've supported thousands of early-stage startups and provided more than £900,000 in equity-free funding.
This year's competition includes a category exclusively for university-linked businesses looking to launch and a category for incorporated startups who are looking to scale. For the first time ever the startup category is open to everyone- not just university entrepreneurs! (see eligibility for further details). 6 winners (3 per category) will receive up to £25,000 funding and secure an automatic place in the Santander X Global Award. There they'll have the opportunity to compete against the best early-stage startups from across Europe and Latin America to win additional cash prizes, international exposure and more!
The Startup category is for UK-based businesses that are looking to scale. To enter this category your business must:
• Be disruptive and innovative, with the ability to scale.
• Be incorporated and registered as a UK company. Your business must also meet one or more of the following criteria:
• Have a product and/or service already in the market with an annual sales revenue of £250,000 or less.
• Have raised seed funding of between £50,000 and £850,000. • Have two to 25 full-time employees (this can include your founding team).
Deadline : 13 September 2023
Find Out More and Apply: Santander X UK Awards 2023